Click on our Savings Calculator to see just some of the ways SOSMobile can save your utility money.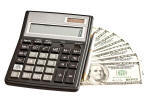 In addition to the tangible savings outlined in the calculator, mobile workforce automation offers many other benefits. Here are a few to consider:
Intelligent scheduling/dispatching results in increased productivity and decreased over-time.

Intelligent routing means less fuel and fleet maintenance costs.

Recording billing information automatically and on the same day it occurs reduces billing errors, cuts working days from the billing cycle, and improves cash flow.

Knowing the exact location of your field personnel reduces missed appointments and improves productivity and customer satisfaction.