How It Works
At the heart of our system is the SOSMobile Server, which controls the flow of data to and from a utility's back office systems. Callable Application Programming Interfaces (APIs) allow easy integration to virtually any software system. In addition, SOSMobile allows you to create and store orders or tasks that are currently being tracked manually.
A Utility then selects one or any combination of the following modules: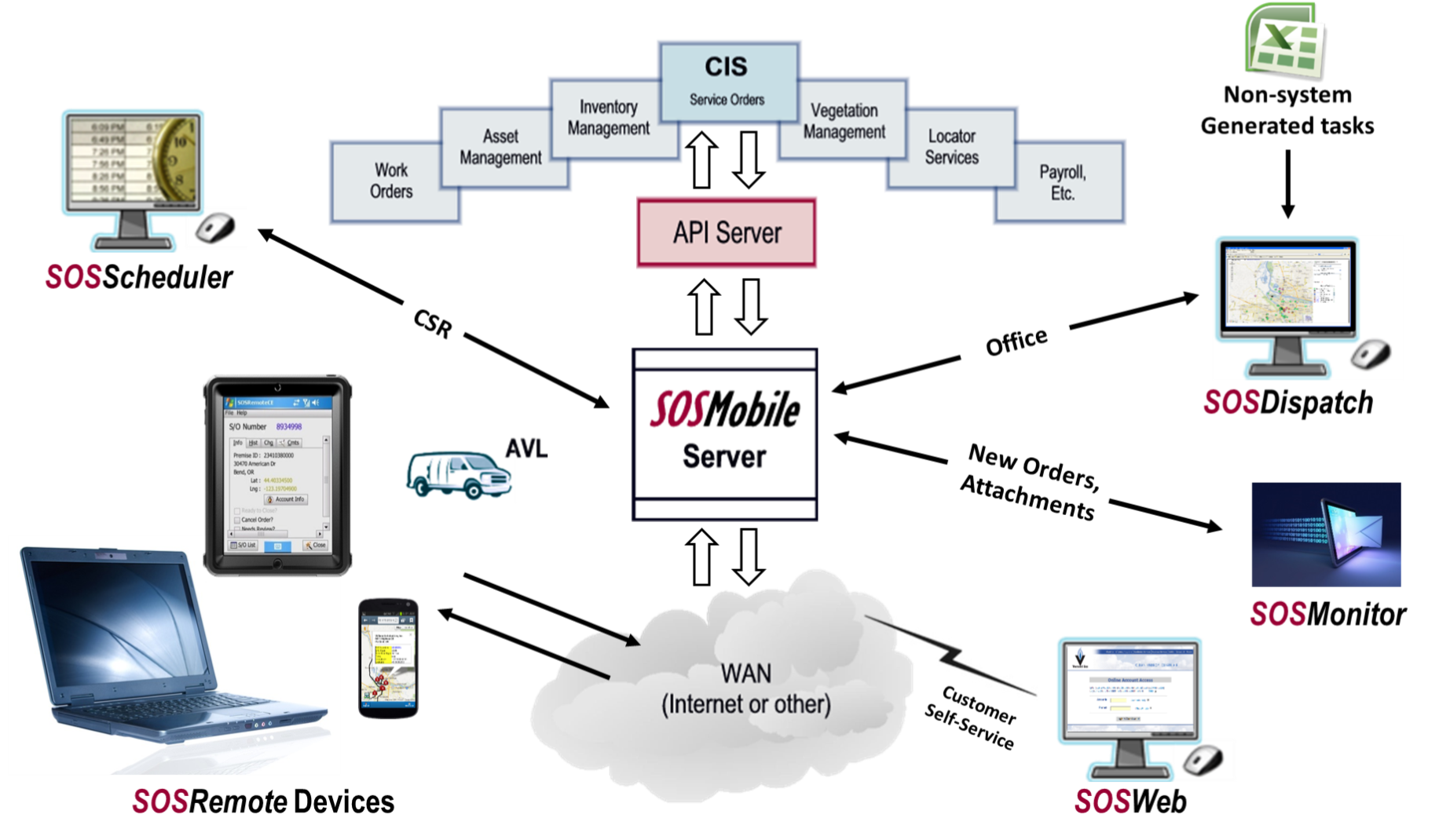 SOSRemote allows Field Service Representatives (FSRs) to stay connected in the field. There's a version that operates on laptops, tablets, smartphones or most any other handheld device. It integrates to mapping applications, such as Esri and Google Maps, and offers GPS tracking capabilities.
SOSDispatch gives dispatchers or office personnel control over the flow of work to the FSRs, as well as the ability to monitor progress in the field. It's also where non-system generated orders or tasks can be entered/ imported.
Automatic Vehicle Location (AVL) includes geofencing and is a function of SOSDispatch and SOSRemote.
SOSScheduler with auto-dispatch is a sophisticated scheduling tool that can be configured for any utility's scheduling needs. Large utilities with complicated business rules are currently using this module.
SOSWeb allows customers to maintain and schedule their own service orders using your existing Web site.
SOSMobile's Email Monitor parses information from incoming mail - such as 811 line locate notifications or watering violation tips - automatically creating electronic orders. In addition, image or signature files can be auto-attached to existing orders when emailed to a specified address.
And rest assured—all data entered into SOSMobile is logged and readily available for reporting purposes.